Women's J.O.Y. Fellowship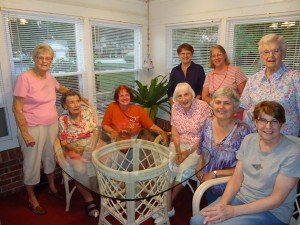 The St. John Women's J.O.Y. Fellowship regularly collects items for Uni-Pres Kindercottage in East St. Louis. These items range from snacks and food to cleaning materials which we deliver on a monthly basis to the Kindercottage center. An ongoing event we host is an Ash Wednesday program and breakfast for other churches in the area. We also help out with congregational events and have monthly meetings September through May. In August they get together at a member's house for food and fellowship.
TRIP TO KINDERCOTTAGE: The Confirmation Class helped to deliver the October items to Kindercottage. They took six rolls of paper towels, 96 rolls of toilet paper, 190 paper plates, 153 paper cups. four boxes of tissue, 1800 paper napkins, 120 baby wipes and topped it all off with twelve boxes of Girl scout cookies and two books for preschoolers. Those who made the trip on Columbus Day were Rylee, Gregory, Ian, Hank, and Pehg. The next delivery will be after Sunday, November 19, and the items being collected are cleaning supplies – anything you clean with at home is needed at Kindercottage. Just a head's up – in December we will collect pajamas and that date will be after December 17.
2017 BROWN BAG LUNCH UPDATE: From Jenn Thompson of First United Methodist Church, "We served 1,242 sack lunches this summer! Praise the Lord! Our program ran for 12 weeks. The math comes to an average of 20 lunches each day. During the summer of 2015 we served 611 and last summer we served 1,183. I want to thank all of you for your hard work and for believing in this program. And a special thank you to Pastor Bob and his daily volunteers at Base 215. We not only fed hungry bellies each day, we united together to be the hands and feet of our Lord showing our community God's love. Please share this info with your church family and again thank you so much!!!"
The J.O.Y. Society (which joined with the Women's Fellowship group) was founded in 1926 and has the motto of "Jesus first, Others next and Yourself last." The aim is to bring joy to the lives of others. So for over 90 years, the women of this church have had a focus to help and support others, including St. John UCC and all its activities, Eden Seminary, Hoyleton Children's Home, Hitz Home, Emmaus House, Neighborhood House and currently Kindercottage and the Brown Bag Lunch Program. We are including a poem that was written by Mildred Goeden in May of 2001 as a tribute to the J.O.Y. for their 75th anniversary.
"Jesus First Others Next Yourself Last"
One Sunday morning a class of young ladies with their teacher decided on this, we'll be a Society and work for the church. An approving nod came from each miss.
We'll call the Society the J.O.Y. we'll make a charter with motto and aim, twill meet once a month on a Thursday perhaps. So that's how this Society became.
We met at the homes of each member in turn, with a wiener roast once every year. We had Halloween parties and Christmas exchange with games of fun and good cheer.
Oh! the trips that we took on Roy's cattle truck and Harvel's too I believe. We went to parks, to Springfield and such, the oldest church in old St. Genevieve.
We held bake sales to buy things for the church too numerous to mention all here. We painted eggs, 12 dozen or more, but decided to quit that one year.
There were Japanese Teas and mums that we grew, and sold at the Fall Market Sale. A lunch stand at auctions with the Church Brotherhood, when the men were still hearty and hale.
As members got older and some passed away; Through the years we've had 93, but it's dwindled down to a precious few. We need more young joiners you see.
We're glad you all made it to help celebrate our 75th year – thanks a lot. We'll continue to serve and do what we can in the service of our neighbor and God.
You can visit this website at http://www.unipreskindercottage.org/ to learn more about Kindercottage.